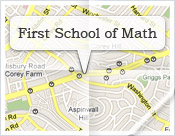 Math Tutoring for Boston students
First School of Mathematics provides effective math and science tutoring to students in the Boston area, Massachusetts. We provide math and sciences tutoring for all ages and all levels of 1 through 12 and college courses.
An FSM tutor is your personal teacher and assistant who works with you individually. The tutor analyzes your current math level, finds out strong and weak points, prepares your personal training program and does their best to improve your math or SAT preparation and help you to succeed in education or enter the reputed universities.
Math Tutoring at FSM - Who Benefits From It
Students of 1-12 grades of public and private schools (Brookline and Boston area, MA) who want to better their math skills
College students who need support in their studies and homework
High school graduates who want to increase their SAT score and be confident in their SAT-I, SAT-II and other standardized test prep
Highly motivated students who are planning to take part in math Olympiads and prestigious contestsHighly motivated students who are planning to take part in math Olympiads and prestigious contests
Mathematically inclined persons who want to understand math from within - its sense and spirit - and check out if math can be their profession
Those who see their future in finance, banking, computing, science, high technology, and even music