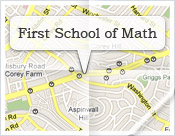 After school classes, Math tutoring, and SAT preparation
Application Form
Application form is in PDF format. You will need
Acrobat Reader
to view and/or print applications.
Enrollment Information
Enrollment of all new and returning students is done by mail or in person.
All applications will be processed on a first-come, first-served basis for all new and returning students.
$100 application fee is due at the time of registration.
Application will be processed when the application form and the application fee are received.
Once application process is complete, confirmation of registration notice will be mailed within 2 weeks.
$100 application fee is not refundable
Monthly tuition is due on or before the first class of each month.
10% discount applies on the lesser tuition for every sibling.
Application form should be completed for each sibling.
If applying by mail, a non-refundable $100 application fee check must be mailed to First School of Mathematics.
Make checks payable to: First School of Mathematics
Send payment to: First School of Mathematics
1622-A Beacon Street, #304
Brookline, MA 02446a
Tuition Information and Payment Options
Please understand that our tuition fees reflect a small class capacity and individual approach to each student, and should not be compared to commercial structures having 18 plus students.
School year consists of 36 school weeks. See School Calendar.
Three payment plans are available
Monthly plan: Yearly tuition is divided into 9 equal monthly payments.
Single payment plan: Single payment of yearly tuition at a discount.
Semiannual plan: Two equal payment dated September 1st and January 15th at a discount.
Course
Single Payment
Semiannual Payment
Monthly Payment
GRADE 1
1.5 hours per week
$1,600
$800
$180
GRADES 2 -- 11
2.0 hours per week
$2,120
$1060
$240
Tutoring
Mathematics, Physics, Chemistry
1 student
2 students
3 students


$90 per hour
$60 per hour
$40 per hour

Refund Policy
Application fee is not refundable
Tuition fee is fully refundable within two weeks after FSM receives a cancellation notice