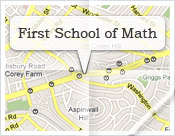 Tutoring & SAT Prep for Boston & Brookline Students
Our mission is to provide top quality mathematical education and SAT tests prep to the Boston area community. Our main objective is to fill in the gaps between different levels of requirements in Middle School, High School, and College.
First School of Mathematics is an after school and weekend enrichment program which offers comprehensive math and science education to students of 1st through 12th grades of public and private schools.
Our tutoring allows students to excel in their regular math classes, successfully pass the standardized tests (such as SAT-I, SAT-II) required for college admission and be better prepared for college math and science courses. You obtain solid store of knowledge and practical skills, capacity to get new knowledge without assistance, understanding what SAT tests are and how you can be better at them. At First School of Math each student has a personal tutoring plan: adjustable schedule of lessons, individual pace of teaching.
After SAT prep at FSM typically about 25% of students get the score of 800 on SAT-I test and about 75% - score 750 or higher. Out of 25 of our graduates from 2006-2009 15 were accepted to Ivy League universities.
We strongly believe that every child can and will succeed given the right opportunity. First School of Mathematics employs professional tutors of the highest qualifications in order to give you that opportunity.
Victor Lisyanoy, PhD
FSM Founder and Head Teacher